5" Amethsyt Bowl Vintage Gemstone Cluster Bowls Charging Plate Magick Psychic Ability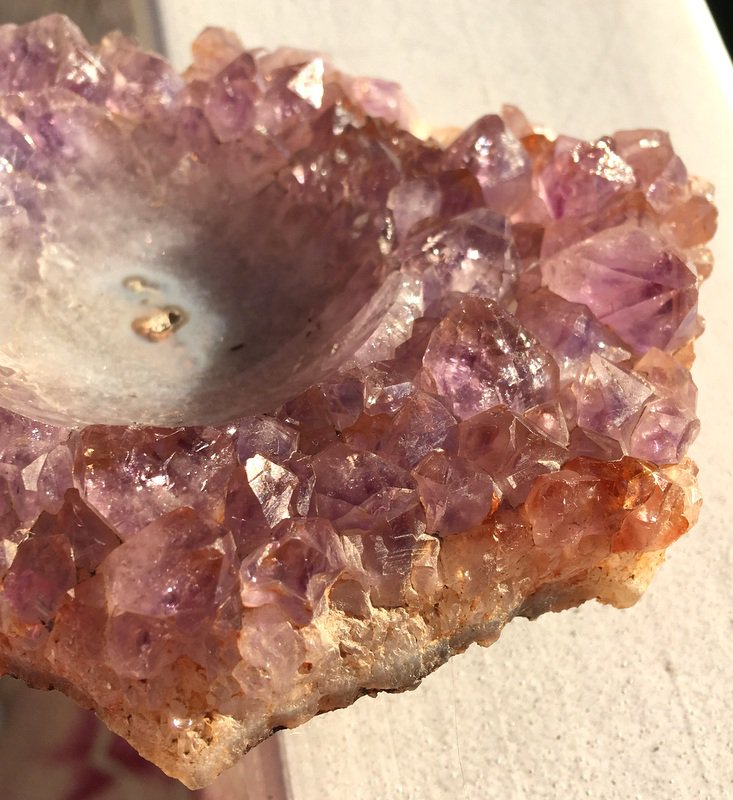 ***VISIT US: www.LesMystique.com for deep discounts on 7000 items!
All Natural Vintage amethyst cluster Bowl has been partially hand polished into a gemstone dish.
The sides and bottom are all natural and unpolished,
The top of the bowl area is a natural cluster
The actual bowl area is round and about 2" wide

The colors range from Purples to pale Lavenders and golden citrine
**ALL pictures taken in sunlight

SIZE: 5"; x 3.50" wide and approx. 1" tall.


Metaphysically speaking...
AMETHYST: A very high spiritual vibration stone, enhances higher levels of meditation for spiritual awareness, promotes love of the divine and is one of the most spiritual stones, opens intuition & stimulates psychic abilities and healing on all levels.
SPIRITUAL PROPERTIES OF: QUARTZ is said to be a powerful & healing stone and energy amplifier, it will attune its energies to the specific energy needs of the intention or of the user .It raises energy to the highest possible level of a person, an intention or another stone.It enhances psychic abilities, aids one in finding & living their spiritual purpose
*CLUSTERS/ DRUZY:
Amplifies the energy of other stones
Increases ones strength and energy
Brings clarity of mind
Brings clear perception & understanding

*DISCLAIMER: Alternative healing is meant to be used in harmony with professional medical treatment. ALWAYS consult a licensed medical doctor / physician regarding ALL health issues, or a licensed attorney / professional for legal issues, or an appropriate licensed professional for any other issues. * Our products are tools for Lightworkers, Crystal healers, Reiki practitioners and those on their Metaphysical &/or spiritual path . By purchasing this product you are stating you understand that : We do not, in any way, imply OR guarantee any outcomes.