Large Blue Lace Agate Sterling .925 Silver Pendant Boho Chic Automatic Writing Gemstone Jewelry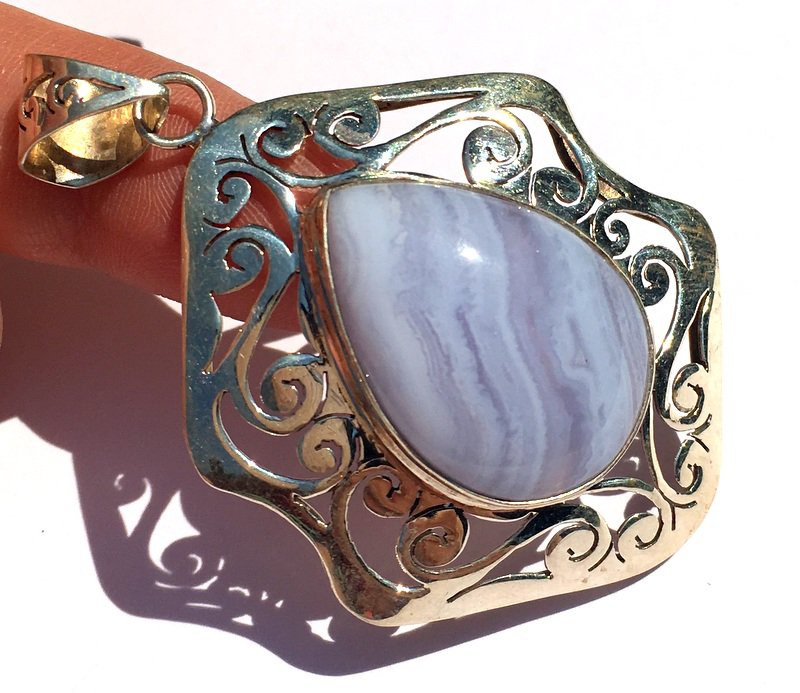 Handcrafted, One of a kind, blue lace agate 925 silver open work pendant, 20x28mm pear cabochon, sterling silver, 2 4/8 inch long entirely.
Reiki Blessed.

Metaphysical / Spiritual Properties of BLUE LACE AGATE: A stone of tranquility and peace. Blue lace Agate resonates with both the throat chakra allowing one to expand self-expression and inspiration and automatic writing ability.. also resonating with the 3rd eye chakra helping one access the wisdom of the higher spiritual and Angelic realms. Additionally, an excellent stone for public speaking.
Physically, it can ease arthritis, issues with digestion and headaches.

ALL ITEMS SHIP INSURED!

DISCLAIMER: Alternative healing is meant to be used in harmony with, NOT in place of, professional medical treatment. ALWAYS consult a licensed medical doctor / physician regarding ALL health issues, or a licensed attorney / professional for legal issues, or an appropriate licensed professional for any other issues. Our products are tools for Lightworkers, Crystal healers, Reiki practitioners and those on their Metaphysical &/or spiritual path . By purchasing this product you are stating you understand that : I/We/The owners of this shop, cannot and do not, in any way, imply OR guarantee any outcomes.