Crystal healing Gemstone bowls dendritic moss tree agate Powerful Abundance manifesting crystals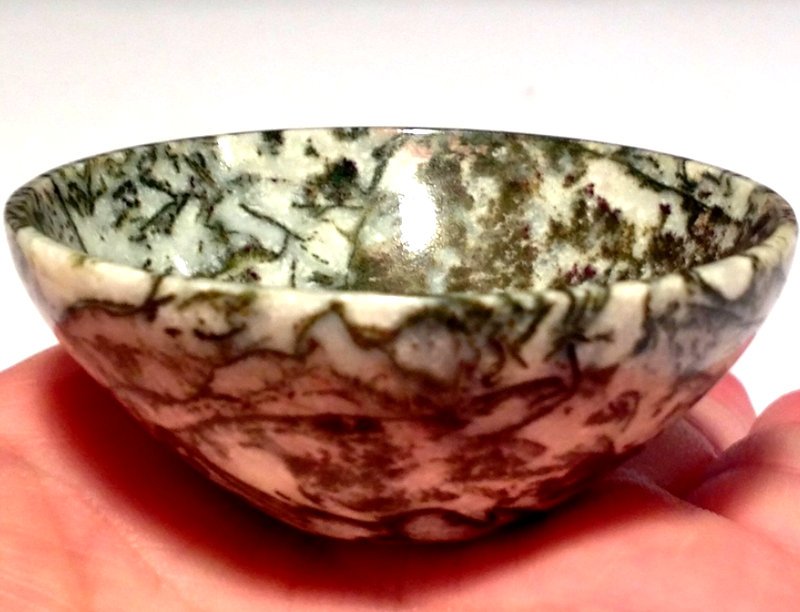 FOR DISCOUNTS on 7000 items, visit us at www.LesMystique.com
2.25 inch wide stone bowl in genuine tree agate. Dark green moss on a creamy white agate. Perfect size for holding in your palm during meditation, for use on small altars or window sills.

Metaphysically, White TREE AGATE / Moss agate / DENDRITE: is known as THE STONE OF PLENITUDE.
==#T4vga-bx23
METAPHYSICAL PROPERTIES OF: TREE AGATE : (aka Dendritic Agate)*Has a powerful connection to the earth. This stone is superb for those going through transitions as it keeps one grounded and give one strength, PLUS it helps remove stress and negative feelings. *It gets one to their "New Beginnings" feeling safe and secure.*Tree agate is a "stone of plenitude" bringing prosperity and abundance to all areas of your life including business success, success with relationships and spiritually.*This crystal is powerful but the effects work somewhat slowly allowing you to transition in a gentle and grounded manner.*Place this crystal anywhere in your home, car, office etc. for a peaceful environment.
All AGATE: stabilizes the aura, transmutes negative energy into positive energy, a powerful cleansing effect on the physical & emotional levels. Balances the emotional physical & intellect. Soothes & calms, self acceptance, self confidence, improves concentration & perception, heals inner anger, links one to their higher consciousness & awareness of the oneness of life, spiritual growth, inner stability.