Large Activated Crystal Skull Arfvedsonite w/ Pyrite & Eudialyte for Ultimate Manifestation Power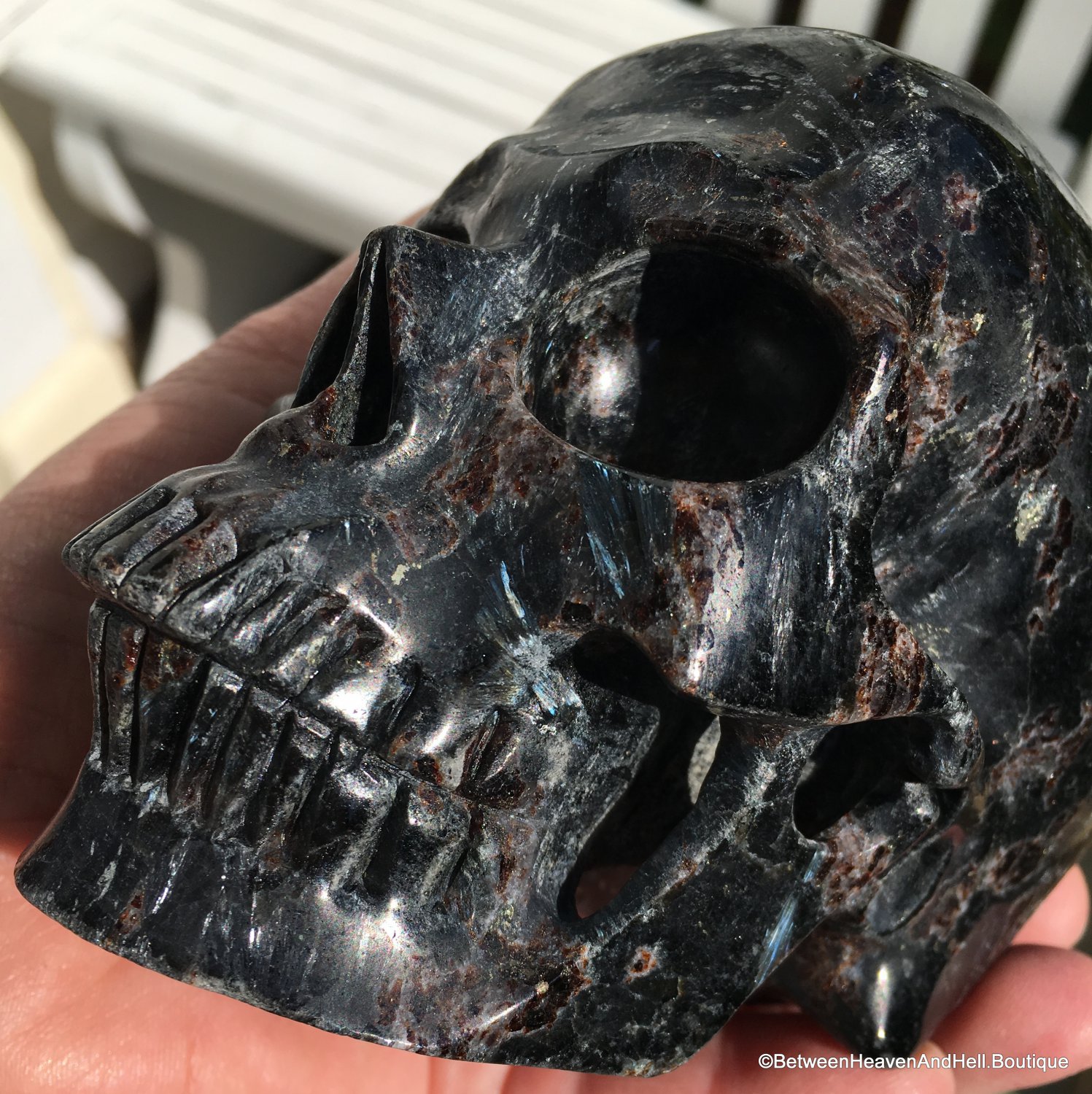 Visit our Main Site for 10%off $100 www.LesMystique.com
Rare Arfvedsonite with Pyrite and Eudialyte, Activated crystal skull. There are speckles of golden pyrite throughout the skull, increasing its already powerful manifesting ability. The dark red Eudialyte (which looks like garnet), brings major synchronicity into your life. Metaphysically, ARFVEDSONITE has potent manifestation powers that will bring your dreams into reality. It helps clear one's path of obstacles. It will awaken your soul and fill your being with Divine light and guidance.  EUDIALYTE increases synchronicities in your life, aiding you in reaching your desired goals. It is a fabulous stone for life transitions / new beginnings as it helps you connect to your soul's wisdom. PYRITE is a stone of personal power, manifestation of dreams and goals, good luck and an attractor of wealth with a strong connection to the earth, pyrite draws grounding protective energies through the body and aura of the user. It mends auric tears and heals energy leaks; Deflects negativity; Excellent for divination; Placed in a room it will increase positive energy and vitality.
WEIGHT: 3LB
SIZE: approx. 5" front to back
Pictures were taken in full sunlight and indoors in natural light.
Metaphysically speaking, crystal skulls can be programmed to support the healing of oneself or others and to manifest answers to life's issues and open psychic channels, showing us our life path. Skulls intensify and amplify ones personal power and intentions while providing the guidance needed to attain ones goals and desired outcomes. CRYSTAL SKULLS are a tool for divination; accessing divine knowledge; self-awareness; soul healing; prophetic visions.



disclaimer: Alternative healing is meant to be used in harmony with, NOT in place of, professional medical treatment. ALWAYS consult a licensed medical doctor / physician regarding ALL health issues, or a licensed attorney / professional for legal issues, or an appropriate licensed professional for any other issues. Our products are tools for Light-workers, Crystal healers, Reiki practitioners and those on their Metaphysical &/or spiritual path . By purchasing this product you are stating you understand that : I/We/The owners of this shop, do not, in any way, imply OR guarantee any outcomes.