3" Cacoxenite Chevron Amethyst Gemstone Bowl Ascension Crystal Psychic Ability Intuition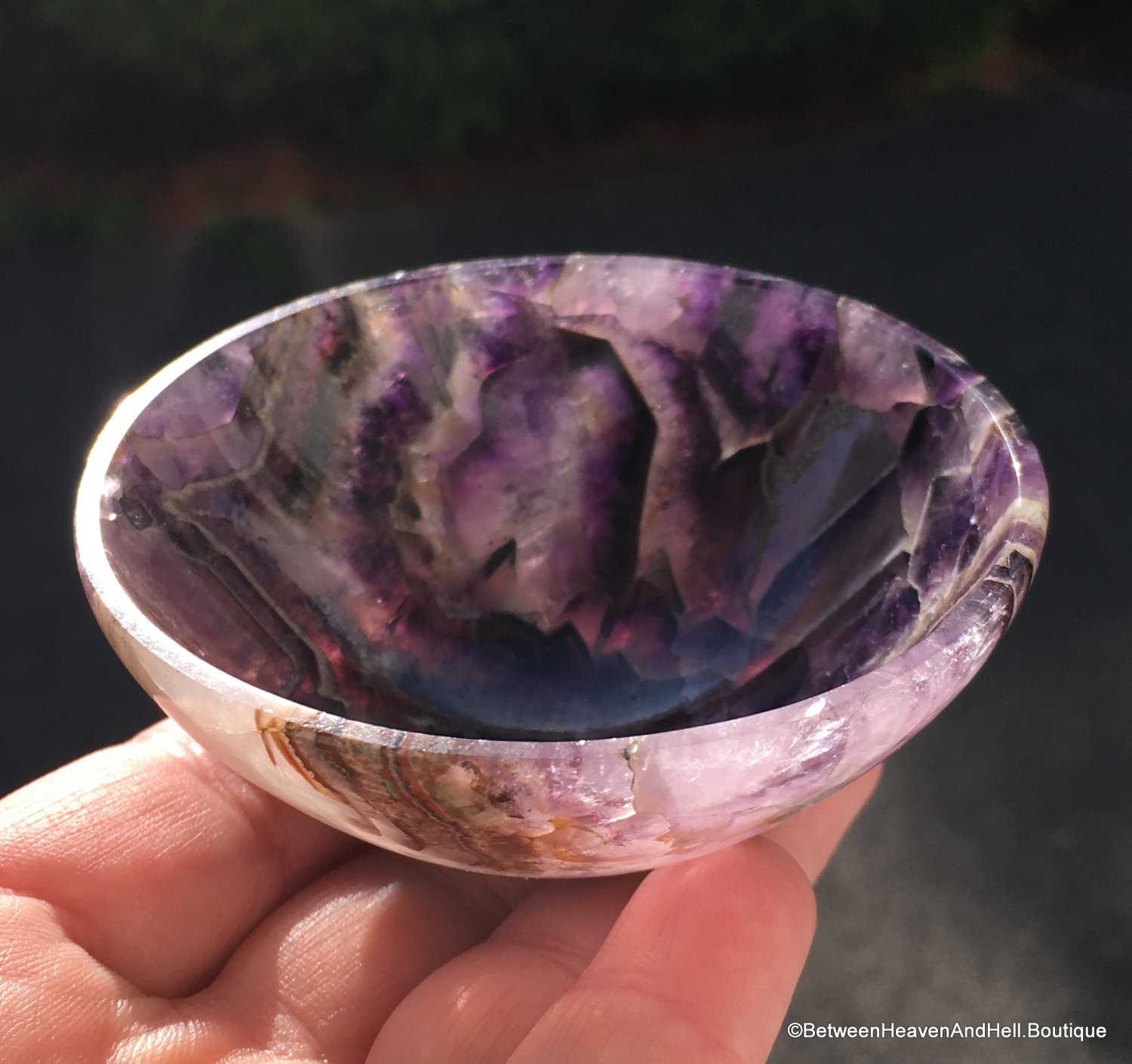 Cacoxenite Chevron amethyst gemstone bowl is magickal! The amethyst gemstone ranges from rich deep purple to medium and light lavender. There are some areas of golden, black and snow quartz as well.
For more metaphysical crystals, art, jewelry, gifts and 10% off $100 visit our main site www.HeavenHell.shop and use coupon SHOP10.
SIZE: 3" wide x 1.25" tall ,
WEIGHT: 76 grams
OffCl#10
**Pictures taken under outdoors in morning sunlight and also indoors in natural light
=============
*Metaphysical properties of
~~AMETHYST: A high spiritual vibration stone, amethyst fills one with contentment and is known as ';nature's tranquilizer', bringing calm, balance, patience and deep peace. Excellent master healing tool for people, animals and plants. It enhances higher levels of meditation for spiritual awareness, promotes love of the divine and is one of the most spiritual stones, opens intuition & stimulates psychic abilities.
QUARTZ - a powerful & healing stone and amplifier, it will attune its energies to the specific energy needs of the intention or of the user. It raises energy to the highest possible level of a person, an intention or another stone.
It enhances psychic abilities, aids one in finding & living their spiritual purpose.
~~Cacoxenite is known as the Stone of Ascension; it will help raise your spiritual awareness; it will activate all of your chakras and any crystals you have near it. It brings positive, beneficial and constructive forces into ones life.
It is a strong guide stone for those discovering their spiritual gifts or delving into metaphysical work.
For those that are stuck or feel lost, this stones healing vibration will bring peace into your heart allowing you to surrender your will to the Divine
It's an excellent stone to use in past-life work. It will help bring soul memories to the surface that need healing so you can achieve great spiritual growth in this life.

DISCLAIMER: Alternative healing is meant to be used in harmony with, NOT in place of, professional medical treatment. ALWAYS consult a licensed medical doctor / physician regarding ALL health issues, or a licensed attorney / professional for legal issues, or an appropriate licensed professional for any other issues. Our products are tools for Lightworkers, Crystal healers, Reiki practitioners and those on their Metaphysical &/or spiritual path . By purchasing this product you are stating you understand that : I/We/The owners of this shop, cannot and do not, in any way, imply OR guarantee any outcomes and we are not liable in any way for how our products are used.